Structure of Pass Box in Pharmaceutical Clean Room, Electronic Clean Room and Medical Clean Room.
Success Way Clean Technology Co., Ltd. is professional cleanroom turnkey solution provider which has accumulated over 40 years' experience in clean room and related controlled environment.  Success way has a R&D team of clean room experts, senior engineer, and graduates as well as experienced technicians. Our projects are covered in operating room、pharmaceutical cleanrooms、laboratory clean room、industrial clean room hardware etc.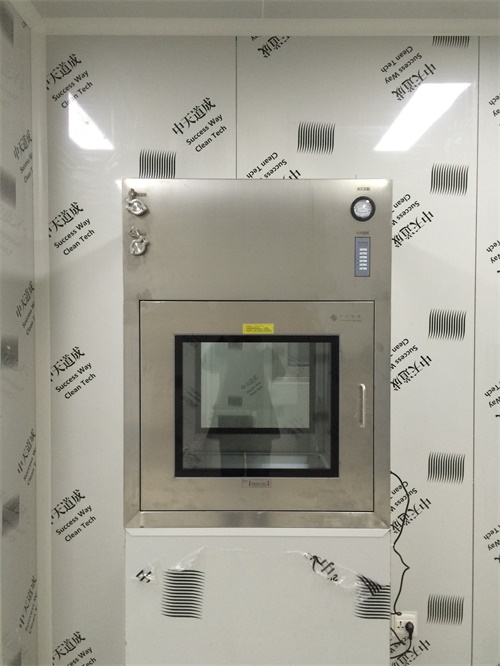 The pass box produced by success way is suitable for use between rooms with air isolation requirements such as electronic clean room and pharmaceutical clean room. The products we produce have corresponding corporate standards.
Composition of pass box:box,test and disinfection tunnel,HEPA filter, UV light and fan.
The pass box is wear-resistant, corrosion-resistant and easy to clean. The material is stable and has sufficient stiffness and strength. Mostly made of stainless steel or cold-rolled steel plates. The inner surface of the pass box channel should be clean, do not produce dust, and do not accumulate dust. All connections should be sealed. The door of the pass box adopts a reliable sealing method that is suitable for its sealing requirements.The switch, button operation is flexible and reliable, parts should be fastened without loosening.The angle inside pass box should be curved, the connection between the box and the wall, there should be corresponding reinforcement bars inside, and the lower part should have ribs and screw holes that can support the upper weight and the lower part of the mounting support frame.
Dynamic pass box should have cleanness test hole,it should meet user sealing requirements.
The fan used in the pass box should choose a high quality, high efficiency and low noise, The fan installed in the box should take vibration reduction and sound isolation measures. The motor provided by the fan should have an overheat protection device and be able to work stably under conditions of 1.15 times rated voltage.
Using environment: a) temperature: 5℃~40℃  b) relative humidity: 30%~85%
Success Way will continue to innovate, pursue excellent clean technology and users first, quality first service concept and determination, to provide domestic and foreign users clean room and related controlled environment one-stop integrated solutions.
For more information, please contact us. We are professional clean room manufacturers, Success Way is dedicated to providing customers with a one-stop integrated solution for cleaning rooms and related controlled environments, 40 years experience. Continuous innovation, the pursuit of excellent clean technology and users first, quality is our service philosophy.
You can share this story by using your social accounts: