The Consist of Air Shower for Food Dust-free Workshop & Clean Room Laboratory
Success Way Clean Technology Co., Ltd. is professional clean room turnkey solution provider which has accumulated over 40 years' experience in modular cleanroom and related controlled environment.  
The Air Shower of Success Way is widely used in Food Dust-free Workshop & Clean Room Laboratory, which conform to related standard. Air Show is a clean room equipment that blows out high air velocity from nozzles and blow off the surface dust of cloths for clean room workers. Air Shower is consist of case, pre-filter, HEPA filter, circulation fan and nozzles.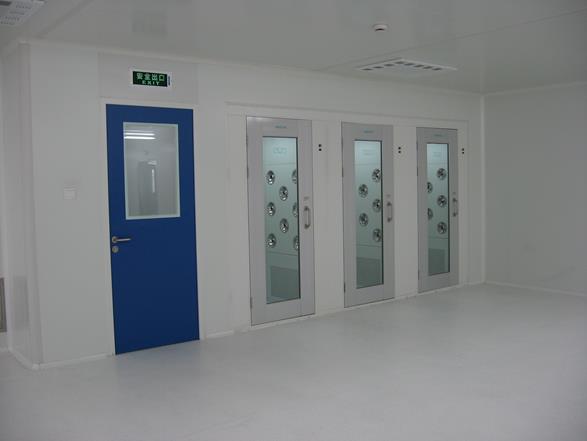 1、Case
a) The case Air Shower is welded or rivetedto keep sure hermetical sealed as well as connectors.
b) The Surface to shower area is dust free and no dust accumulation, connectors is sealed.
c) The door of the air shower is reliably sealed, which flat with surface of shower.
d) The operation of Switch & keys is flexible and reliable, and parts should be tightened without looseness, indicating correct.
2、Pre-filter
Pre-filter used in air return is conform to GB/T14295. According to GB/T142965 testing method, The efficiency of particles that diameter greater or equal than 0.5um is greater or 10 % of media-filter.
3、HEPA Filter
The HEPA Filter is conform to GB/T13554, which lowest efficiency is A class or as per user's request.
4、Circulation fan
a) The fan used in Air shower is high quality and low noise, and when the wind pressure changes by 50%, the wind volume does not change by more than 10%. Or taking related measure to make sure wind volume change does not more than by 10% when wind press changing under fans working.
b) The fans used in case is damping and sound insulation measure
c) The fans is installed the air port of HEPA Filter.
d) The fan is equipped with a thermal protection device which can work stably at 1.15 times rated voltage
5、Nozzle.
The Air Shower is showered from left and right two directions, it also can be add ceiling shower if you need special request. The nozzles for single person air shower is 16pcs, and the quantity for double or multi person air shower can be added according to working area. The nozzle is made of stainless steel, and the diameter should no smaller than 20mm.
Success Way provides one-stop air purification technical resolution in domestic and overseas air clean room and related controlled environment based on continually innovative and excellent technology as well as client and quality first concept.
Any air shower clean room projects needs, please contact us we are professional clean room manufacturers.
You can share this story by using your social accounts: